Unlock the full potential of your data with effortless metric analysis and unparalleled insights.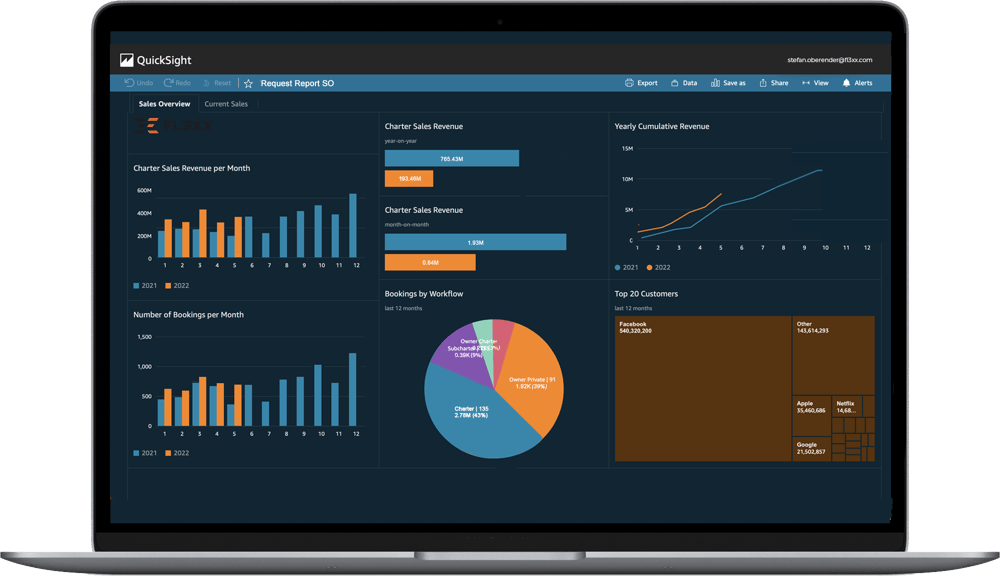 Update - September, 2023
We've again updated the "Services" dataset in BRIGHT, providing insights into flight-related services like Catering, Transport, Hotac, and Handler.

On top of the dataset that includes crucial details such as Flight ID, Service type, Status, Responsible party, Service specifics, Remarks, Pax Remarks, Requests, Full Name, Arrival/Departure, Company, and ICAO code, we've now added data from the Customs, Migration, PPR/Slot, and Permits sections making FL3XX BRIGHT even more comprehensive.
CONTACT SALES TO LEARN MORE
With BRIGHT, anyone can build reports.
FL3XX BRIGHT empowers everyone to create reports, regardless of their experience level.

Fully integrated into FL3XX with access to every data field, there's no need for extra logins or screens.

Design your own visually stunning dashboards and share them with your management, owners, and teams.

Stay on top of your KPIs by scheduling automated email reports at your convenience.