Index
A Leap in Data Security: We've achieved ISO 27001 Certification!
Enjoy Direct Access to the CANPASS
Enhanced Aircraft Change Tracking in Sales Module
ForeFlight: Performance Data Retrieval
FL3XX BRIGHT: Dataset Updates
1. A Leap in Data Security: We've Achieved ISO 27001 Certification!

Great news! After a year of diligent work we have just achieved the ISO 27001 certification. This marks a significant milestone in our commitment to top-tier data security.
About ISO 27001
This international standard recognizes our robust approach to managing and protecting sensitive information, ensuring we adhere to the best practices in information security.
This certification is a testament to our secure, responsible approach to information management, enhancing our operational resilience and aligning us with industry-leading practices.
What It Means for You
For you this means enhanced data protection and peace of mind, knowing your information is managed in the most secure environment.
---
Web Application
2. Enjoy Direct Access to the CANPASS
What's new:
Access to the CANPASS has been simplified. It is now available directly under the GenDec items in the Recap section. This enhancement eliminates the need to navigate through the crew package, offering easier access to the CANPASS.

This feature is included within your FL3XX subscription. For more information on Migration and Customs documents, check out our Knowledge Base.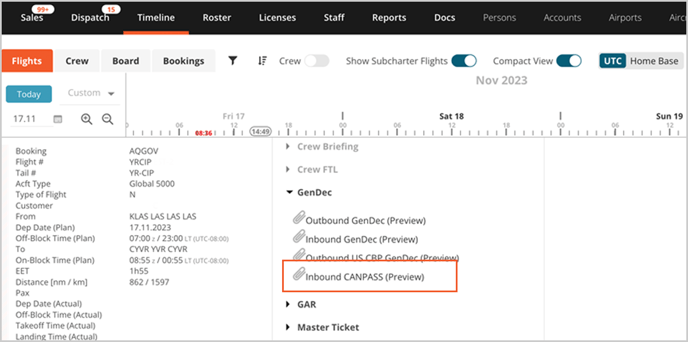 ---
Web Application
3. Enhanced Aircraft Change Tracking in Sales Module
What's new:
The feasibility check area within the Itinerary section has been updated to facilitate better tracking of aircraft changes for past or completed flights.

Once the Post Flight section of the past flight is set to "OK", the flight shown in the feasibility check section will be marked as "Completed" instead of "Locked". The registration of the new aircraft will also be displayed.

This update aims to provide our clients with more precise and timely information on aircraft changes.
This feature is included within your FL3XX subscription. For more information on the Itinerary section, check out our Knowledge Base.

---
Integration
4. ForeFlight: Performance Data Retrieval
What's new:
We have enhanced the integration by facilitating the retrieval of essential performance data directly from ForeFlight, such as:
FPL Tab: Access the routing, flight level, and minimum fuel requirements.
Permit Tab: View overflight countries.
Airports Tab: See alternate airports for both departure and arrival.
MVT Tab: Check the estimated time of arrival (ETA).
This update aims to provide a more efficient and comprehensive overview of information for your flight planning and scheduling needs.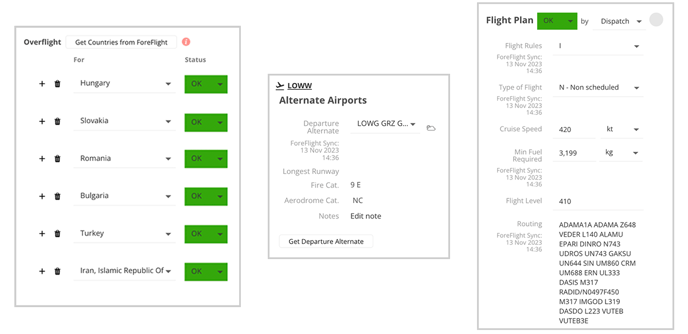 This feature is available to users who have activated the ForeFlight integration.
For more information on this integration, check out our Knowledge Base.



---
FL3XX BRIGHT - Business Intelligence Tool
5. FL3XX BRIGHT: Dataset Updates
What's new:
We're thrilled to announce the latest enhancements to the "Crew" and "Services" datasets in FL3XX BRIGHT!
Crew Dataset:
The updated Crew dataset is meticulously designed to offer a more detailed view of crew data, and includes the following updates:
Roster Entries now include Type Rating, Aircraft Registration, Aircraft Model, and Role.
User IDs have been added for improved tracking.
Assignment Type, Qualification Name, and Assignment Position are now sourced from the Staff page.
Flight Hours data, including Pilot Flight Hours (Initial, Logged, and Total), has been included.
User Acronym, Job Title, Home Airport, and Role list are now extracted from the Persons page.
The inclusion of this new data refines regulatory compliance and reporting, enabling the creation of more detailed reports for audits and regulatory purposes. It also optimizes crew management by improving resource allocation across flights and tasks.


Services Dataset:
The following data have been included within the Services dataset to provide a more comprehensive view of flight operations and services management:
Data on canceled flights and services confirmed for flights that were subsequently canceled.
Approval time data for slots/PPRs.
This data facilitates flight schedule refinement, allowing for the optimization of future flight plans and bolstering service reliability. It also streamlines the process of slot/PPR approvals, tracking and improving their efficiency for smoother flight operations.
To learn more about these new features in FL3XX BRIGHT, contact our
Sales team
or
click here
for additional information.