Web Application
FL3XX AI - Transform Your Emails Into Quotes
What's new:
Save valuable time by automatically turning inbound emails from your customers into quotes with FL3XX AI!

When you forward your emails to a unique address we provide to you, FL3XX AI will analyze the content, and turn it into a quote in your system. You'll also receive an email notification about the processing status.

This feature is available via private beta. To activate, contact Sales.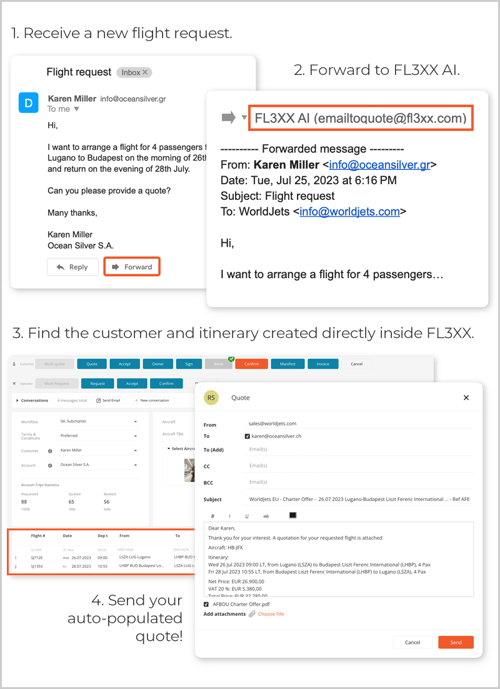 Web Application
More Precision in Your Approach Logs
What's new:

A new submenu has been added to the post-flight precision approaches log, allowing you to select the approach type e.g. Cat II, Cat III and LVO.

This data can also be found in the Logging report, providing you with improved analysis and statistics.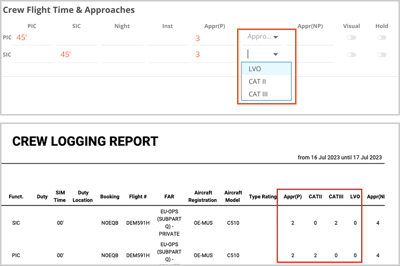 Integration
Customized Pricing for Avinode Requests
What's new:

With our latest integration enhancement, you can choose whether to send Total Gross Price or Total Net Price to Avinode when quoting Avinode requests.

You can find this feature in Settings → Integrations → Avinode →
Send Total Gross / Total Net.

By default, the Total Gross Price will be sent. If you prefer to keep the current settings, no action is necessary.





Web Application
Effortless Leg Reinstatement
What's new:

You can now reinstate previously canceled legs directly from the booking itinerary.

When accessing the relevant booking and selecting "Reinstate Leg", the system will automatically restore the leg with all essential data, ensuring a seamless planning and dispatch process.

Control over this capability is managed at the access rights level. To ensure that the leg reinstatement feature is available to the appropriate roles within your organization, contact Support.

For more information on this topic, check out our Knowledge Base.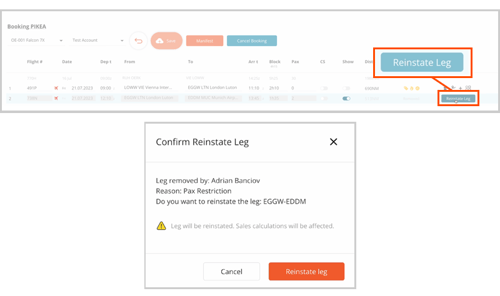 Integration
Enhancement to PPS Integration
What's new:

Effortlessly transfer your crucial flight documents from FL3XX to PPS (Crewbriefing.com). This enhancement enables you to upload crew briefings, GENDECs, fuel releases, and other flight-related documents whilst reducing errors typically associated with manual uploads.

To activate this enhancement, contact Support.

For more information on the PPS integration, check out our Knowledge Base.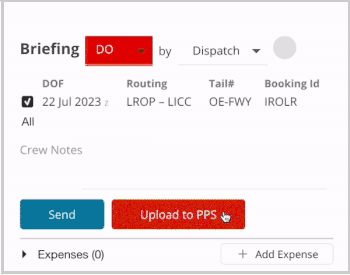 Web Application
UI Improvements for Your Timeline Tasks
What's new:

Your timeline now features resized tasks, optimizing space while maintaining full functionality.



Web Application
Keep Your Qualifications and Licenses in Check
What's new:

We've introduced visual warnings for user-modified qualification expiration dates in the Staff and Licenses Report.

This new feature ensures that important qualifications and Licenses are kept up-to-date, enhancing crew safety and ensuring compliance.