Adding Post-Flight Data
Open the app and on the Schedule page, scroll down to pull up post-flights, then tap on the flight to which you would like to add Post-Flight Data. Then, from the menu select Post Flight: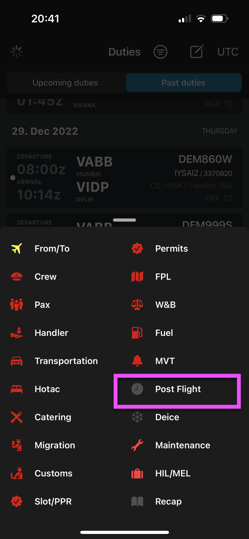 The system already pre-populates the data based on the flight details. You only need to overwrite them based on the actual data. Tap on the fields to add the data.
Log Section
Add the actual PAX number
Add the paper Tech Log number
Add the times of the flight in UTC (by default the system shows the scheduled DEP time in UTC)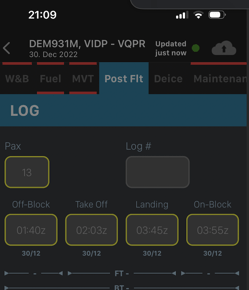 Duty Time
IMPORTANT! Tap on the right side to open the Flight Time Limitations panel. Select the values that apply on the flight by using the toggles: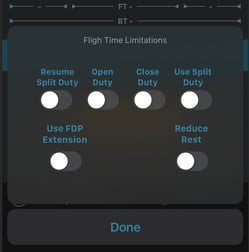 Add the Check-In/ Check-Out times and the PF T/O / Landings values by tapping on the fields. You can also add FTL Remarks by tapping on the text area: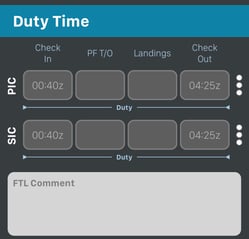 Aircraft and Approaches
In this section, you can change the Engine Cycle, add Oil to the Engines and, if the aircraft has an APU, add the APU Cycles and Oil by tapping on the fields.

For operators who operate Trijets or 4-engined aircraft, you can input separate data for each individual engine. Please make sure that your aircraft is correctly configured ("Number of Engines" field on the aircraft page):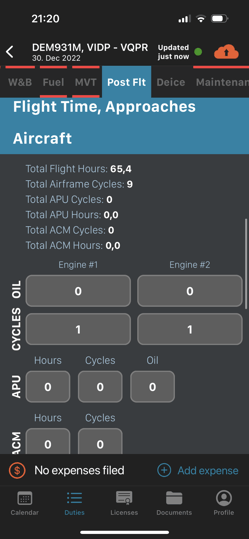 You can enter the aircraft's Hobbs values.
You can log Visual and Precision Approaches in this panel to the Post-Flight section of the crew app: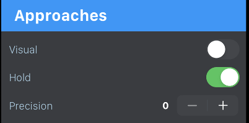 Fuel
In the Fuel section, we add the last known remaining fuel value as Calc Initial from the previous Tech Log, which you can overwrite if the value is different. Fill out the fields by tapping on them and the system will calculate the fuel consumption and the remaining Fuel on board. Do not forget to add whether the Uplift was in L or USG.
When you've filled out the form, tap on
at the upper right and the system will synchronize the data with the web app:

Post Flight Details
In this section, you can add your Journey Log comments into the text area
By using the toggles, you mark if there was a Ramp Check, FMS Update or an Occurrence
You can also add attachments by tapping on the "+" sign. The two options are either scan in a document or attach a photo of it from your mobile device: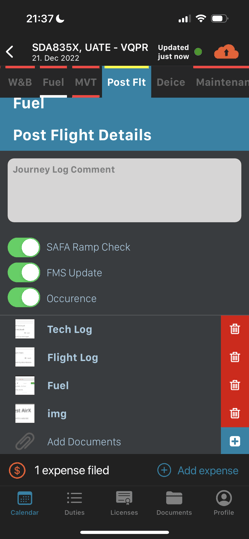 Delay reasons
Via the Crew App, the reason for any delay that occurred can be submitted. You can set up your own delay reasons or use the IATA default. The thresholds can be set individually as well: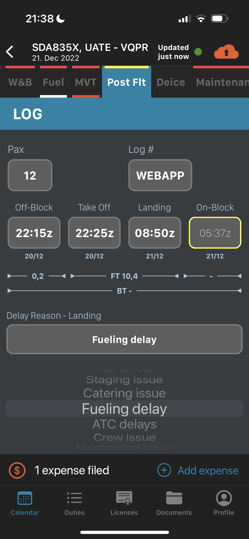 Adding Deicing Data
Open the app and on the schedule page scroll down to pull up post-flights, then tap on the flight to which you would like to add Deicing Data. From the menu select Deice: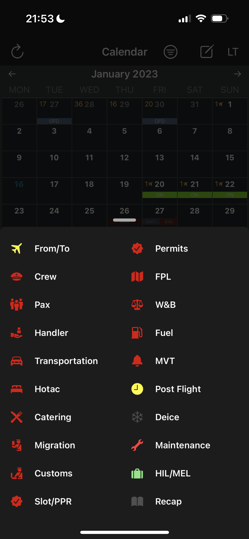 Fill Out Guide
Add the Start time of the Deicing in UTC, the type of fluid that was used, and its mix with water: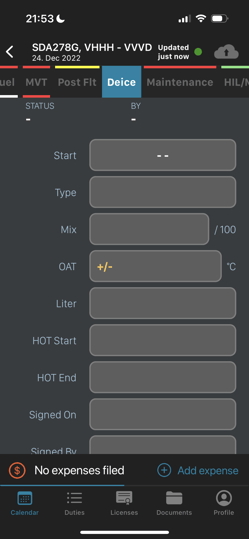 IMPORTANT! When you tap on the OAT field, set the temperature by tapping on the within the field. This will adjust the temperature accordingly:

Add the Liter amount that was used and the Start/ End time of the protection period. Add who signed off from the ground crew on the Deicing:
Add the crew member who signed off the process by tapping on the "Signed By" field and select one of the prepopulated crew members from the list. When you are ready, tap on to save the record on the top right of the screen: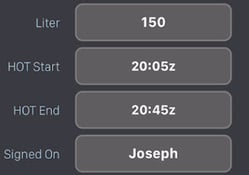 Add the crew member who signed off the process by tapping on the "Signed By" field and select one of the prepopulated crew members from the list. When you are ready, tap on to save the record on the top right of the screen: