You can submit Part135 (Charter Flights) eAPIS to the CBP through FL3XX with a mouse click.
WARNING!
To ensure successful eAPIS 135 submission to CBP,
1) the operator MUST have an ICAO and/or IATA Airline designator code (3, or 2 letters) AND
2) the flight subject to submission MUST have a 3 or 4-digit Flight Number. (e.g. MA123).
3) Operator must have registered the carrier code(s) with CBP.
A. How to use
When you have a flight arriving or departing to/from the United States, we auto-populate the eAPIS data in the Dispatch module. We also added the US Over Fly APIS submission, if the flight is a Part 135 / Commercial flight and the flight path is over the continental US, Hawaii and Alaska on a Great Circle basis we trigger the APIS tool in Dispatch Emigration section.
In Dispatch, under the Migration tab, we display the crew and passenger data and yellow and red warnings of missing data with explanations of what needs to be added before the file can be submitted to the CBP. You can ignore the yellow warnings, we auto-correct them before submission, but the red ones must be corrected. Below is an example of when your flight arrives in the US.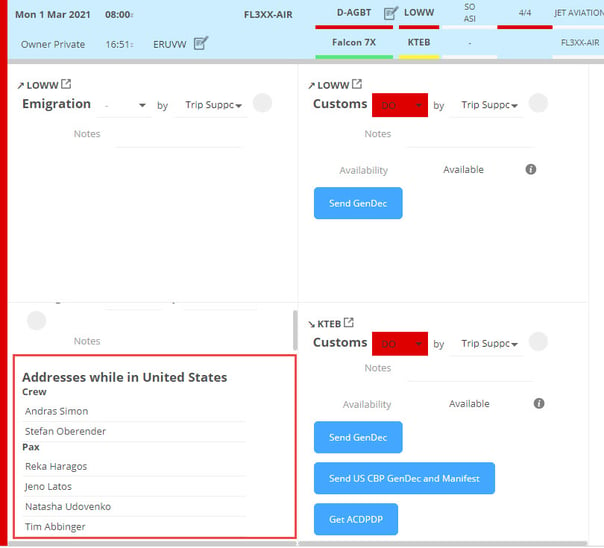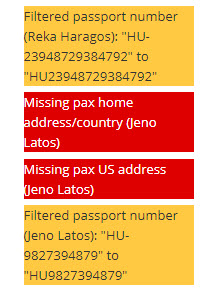 In cases of a US arrival, the next step is to add the Crew and Passenger's US addresses. If a PAX or a Crew member has a US home address, we show the word Home, meaning that you can select the address. If the PAX, Crew does not have a US address, click first on the PAX/Crew name then on the + Add address button. In the popup window add the address and save it.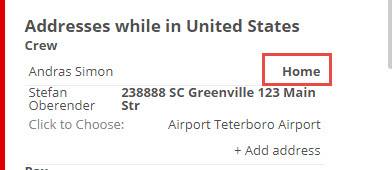 Once all addresses in the US and other missing data is added at the bottom of the page the Submit eAPIS 135-Crew List and the Submit eAPIS 135-Pax List buttons appear. Click on them and in a few seconds we submit the file and show you the confirmation number we receive from the CBP.
B. How to set up
First, make sure that:
You have an ICAO/IATA carrier code.
You've registered the carrier code(s) with CBP. Else, CBP's system will reject eAPIS submissions from the FL3XX system.
You've got your APIS 135 Sender ID and password from CBP.
Now, notify FL3XX Support to activate this feature for you. We will let you know once it is active.
Then,
In the Settings, add the Emergency Contacts in the Integrations section / APIS: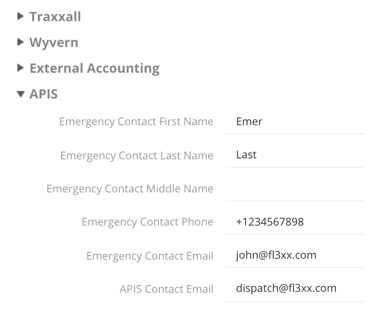 2. Add your APIS 91 and/or 135 Sender ID and Password.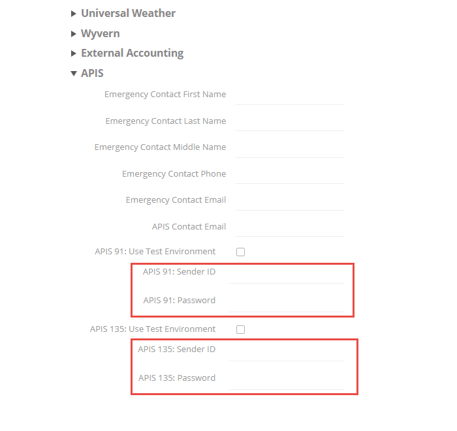 3. Don't forget to check your AOC settings for the Flight Prefix, ICAO and/or IATA code.
Check your flight number(s) to ensure they comply with CBP's requirements as per the Warning at the top of this article.