Flight Strip
The Flight Strip features three major parts:

Overall Flight Status
The bar on the left side of the Flight Strip indicates the Overall Flight Status. Its color indicates the worst color any one item inside this flight has. E.g. When all items are green, but there is one red item, the Overall Flight Status will still be red.
In the Timeline, the flight will be colored in the same color as the Overall Flight Status.
Flight Details
On the left, the Flight Strip displays the basic Flight Details to identify the correct flight:
Flight #
Booking ID
Tail # (which opens the Maintenance details)
Aircraft Type
AOC Name
Customer
Date of Flight
Flight type + Number of Pax
Departure and Arrival Time
Departure and Arrival Airport

Show Home Base Time
If you prefer using Home Base Time, you can set Show Dispatch Times (arr/dep) In Local accordingly, in the Company Dispatch Settings.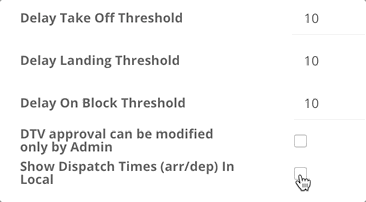 If the value is set to true, the primary time display is in local time and you can see the UTC times of the flights when hovering over it.

Flight Items
On the right part, the Flight Strip displays all Flight Items, with some basic information and status color. The status color indicates the worst status inside the group. A click on any Flight Item opens the respective Flight Panel. For a detailed description of the Flight Panel, please continue with the subsequent articles.

Popup for Flight Notes
When you hover over the note, all the notes will be displayed in a tooltip.