Benefit from credit card guarantees and electronic payments directly in FL3XX. Let your customers pay for your flights instantly by card.
A. Please note
Your own or any other Stripe account cannot be added to FL3XX.
For use in FL3XX, a new dedicated Stripe account must be created within FL3XX Stripe wholesale environment.
We're gradually launching Stripe payment integration in the first half of 2023. Initially, we're onboarding a few selected FL3XX users in beta mode. Then, we'll invite a broader audience.
Stripe via FL3XX will be available for users in these regions:
Canada, EEA, Switzerland, UK, USA
Stripe via FL3XX will support account currencies:
CAD, EUR, CHF, GBP, USD
Sales in other currencies will be converted to one of the currencies above.
Default cards: Amex, Mastercard, Visa
Enabling this service is subject to FL3XX's and Stripe's approval.
Using this service is subject to Stripe Services Agreement.
Your current FL3XX subscription plan is to be amended to include Stripe.
B. How it works
Instead of reading the below guide, you can opt for a short walkthrough:
1. Credit Card Hold (Guarantee)
a. In the FL3XX Sales module, select "Credit Card Hold" in the Payment Guarantee.
b. Type in the desired amount. Currency is auto-selected based on the quote currency.
c. Press "Initiate hold" button.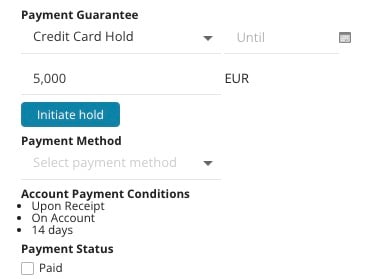 4. A Stripe link is generated and auto-copied to the clipboard.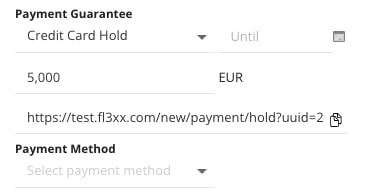 5. You can either send the link to the buyer (via FL3XX, email, Whatsapp...) or you can execute the hold on behalf of your customer.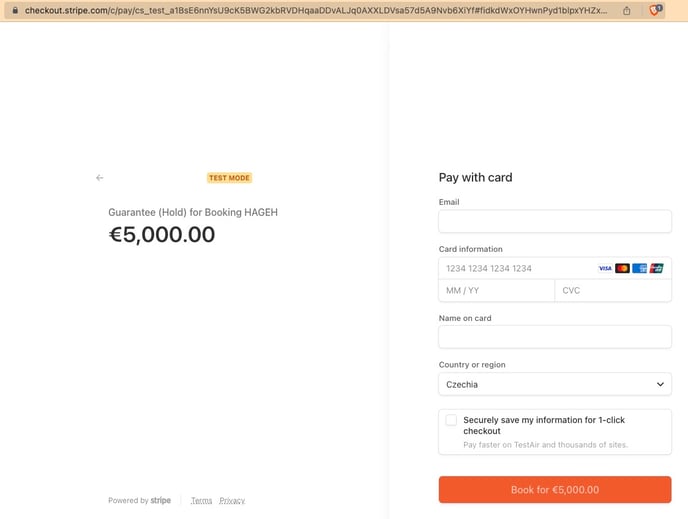 6. Once the hold is executed:
1. You're notified in FL3XX instantly (see 1 in the screenshot below)
2. A notification message is generated (see 2)
3. You can open the notification message (see 3)
4. Holding period is auto-set to the maximum default of 7 days from the moment of placing the hold (see 4)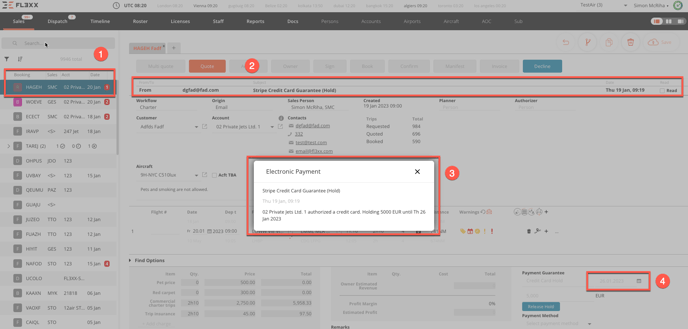 7. You can release (cancel) the hold manually by pressing the button "Release hold"
2. Credit Card Payment

a. With invoice (1), FL3XX auto-sends a payment link (2).
b. Upon receiving the email with the invoice, the buyer can press the button and settle the invoice amount by card.
c. Protip: To get the same payment link and execute the payment on behalf of your buyer, send it to yourself or Bcc yourself.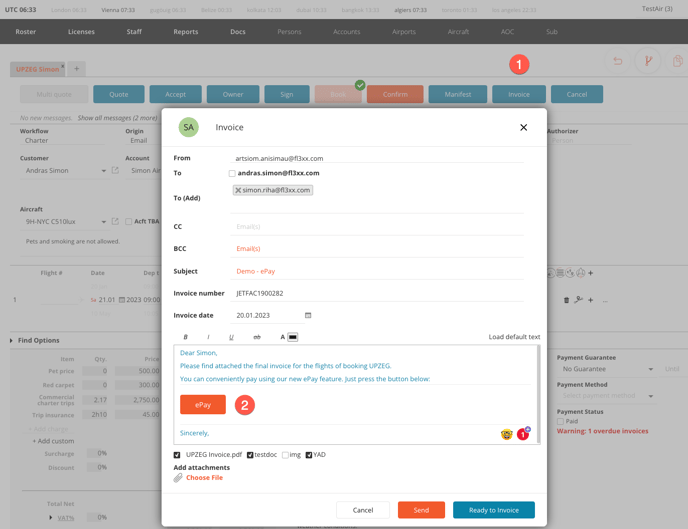 Once the payment is executed, you're notified instantly.


C. How to access Stripe Express Dashboard?
Stripe Express Dashboard allows users (connected accounts) to view their available balance, see upcoming payouts, and track their earnings in real time.
Go to Settings
Select Stripe in the menu
Press "Open Dashboard" orange button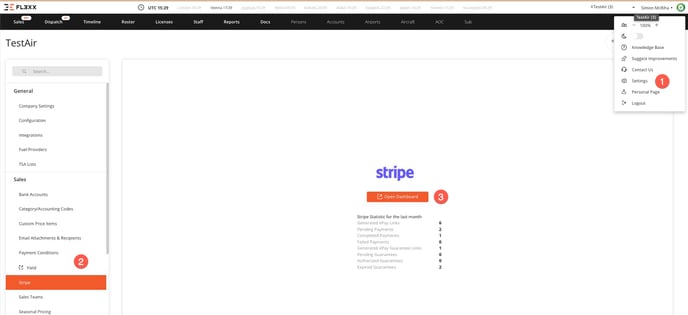 Stripe will request a 6-digit secure code sent to your mobile phone number.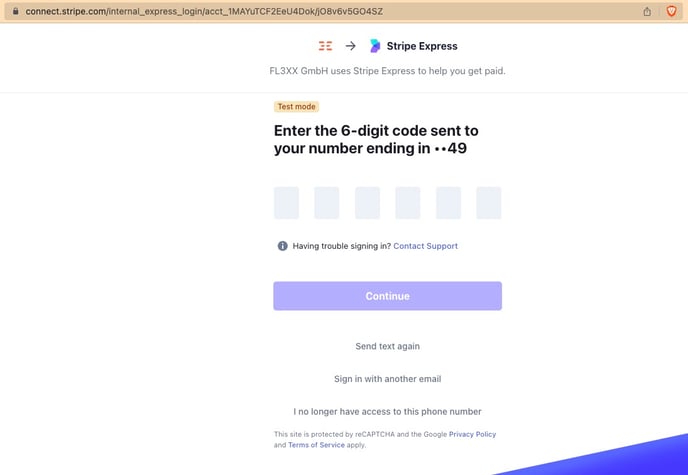 Stripe Express Dashboard will open.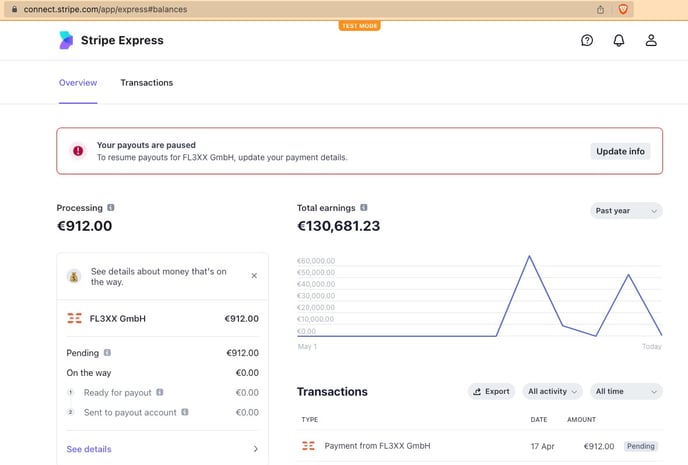 You can create more users to access Stripe Express Dashboard. However, each user will be prompted for their mobile phone number (secure access required by Stripe):
In the Stripe Express Dashboard
On the top right corner, click on the Profile icon
Scroll down to the very bottom of the page. There are "Platform Settings" there.
Select your platform
A new window opens on the right of your screen. At the bottom of this, you'll find the section "Team Members" where you can add more users.
Enter the email addresses of the team members you'd like to invite to this account. They'll authenticate with their own access to the Dashboard.
D. How much does it cost?
Monthly account fee: 100 EUR / 100 USD
Credit card payment transaction fee (including all issuing bank charges, card network fees, Stripe charges, and fees, etc.):

EUR 0.25 + 4%
USD 0.25 + 4%

Card hold (guarantee): Not charged
Refund: No extra charge. The original payment amount less deducted transaction fees is refunded.
Card dispute fee: 100 CAD / EUR / CHF / GBP / USD per disputed payment if not resolved in your favor (i.e., the buyer wins)
Default payout delay: 14 days after the capture
E. How to enable Stripe
Your own or any other Stripe account cannot be added to FL3XX.
For use in FL3XX, a new dedicated Stripe account must be created within FL3XX Stripe wholesale environment.
Get in touch with us at support@fl3xx.com

Let us know about your interest in using Stripe.
Let us know which user group(s) shall have access to the Stripe admin area in FL3XX (in FL3XX Settings, Stripe). See the Persons module, Roles (e.g., Accountants and Sales in the example below).



Please allow up to five days for our FL3XX financial team to consider your request and communicate with Stripe back office.
Upon our approval, we will enable your access to Stripe in FL3XX. You can set up your account in system Settings (in the screenshot below, 1), go to Stripe (2), (3) Create Stripe Account.


Please advise after you've set up your Stripe account so we can finalize your activation.