Search / Filter
The Dispatch page features a very powerful Search Box in order to retrieve any Flight. You can search for a Booking Number, Flight Number, Customer Name,etc.
Clicking the filter button next to the date range allows you to fine-tune the elements you want to see in your dispatch board:
You can also filter the flights by Setup status, Canceled/Non-Canceled, flight for Release (if active), flights with No Crew assigned, or flights in the future, or past.

The adjustable date range allows you to define precisely what you're looking at. The default is today's flights and future flights.
The filter boxes allow you to show only one Operator, an Ops Team, one Aircraft, one specific Airport, or filter by Workflow: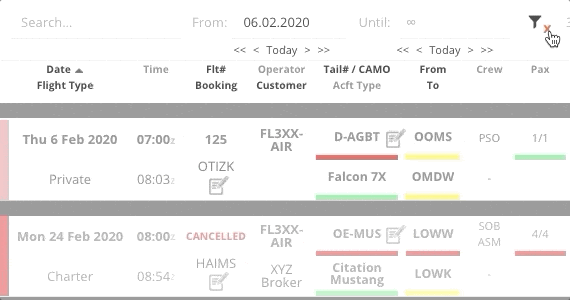 The page auto-updates, so that if you are monitoring a certain station (e.g. because you operate your own FBO), you can put this page on your ops screen and see all upcoming flights.