The Report section is a great tool for your managers and anyone who enjoys seeing your company's progress in numbers. Statistics, reports, lists, and graphs shed light on the many sides of your business. Its main features are:
Statistics for Sales, bookings, flights and more
Reports on cosmic radiation, empty legs, and more
Customizable tables, graphs, and lists

Screen Elements
See all the reports available in FL3XX, sorted by operational areas: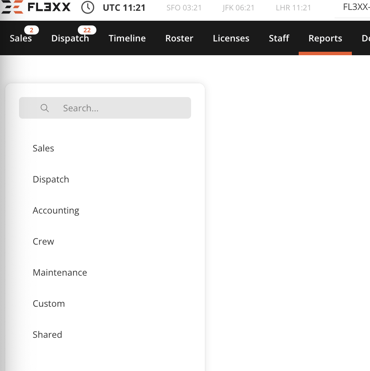 The users of the system can view different sections of the reports, depending on their access rights (e.g. a salesperson can only view the Sales and the Shared reports).
For more details about access rights, please refer to the Persons Module
Each of the reports can be customized, filtered based on persons, time frame, etc., and exported to PDF and CSV format.
You can also share to all users the reports generated when you select the "Share to all users" check box.

* Functionality and methods to generate reports shown below are applicable to every module.
1) Generating a report
Click on one of the reports
Choose the attributes you would like to see in the report, you can click "Add More" to see more hidden attributes

2) Sort Function
You can click the title bar to sort the content of a particular column.

3) Graphic Tables
When you scroll down you will find the graphic tables. You can see more details by hovering your cursor over the bars. For example, here are graphs from the Sales report: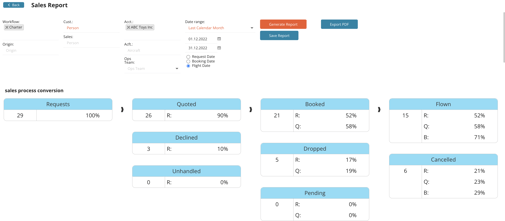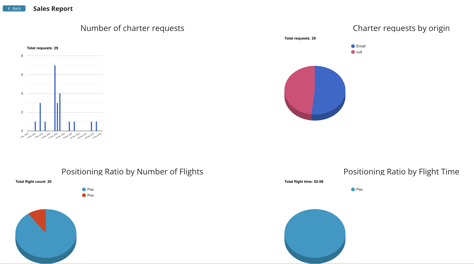 Sales Reports
Owner: statistics about block time, revenue, destinations, and occupancy
Sales: sales process conversion, reasons for lost sales, and other statistics related to customers and requests
Bookings: details of bookings, such as block hours, pax legs, ferry legs, etc
Bookings/ Fees: details of bookings, together with various costs
Empty Legs: This report lists all empty legs in the system, by clicking the checkbox on the left-hand side, these empty legs will be pushed to the marketplace(FL3XX's Integration Partners) of your choice. Write to support@fl3xx.com if you have questions in how to set it up.

Accounts: statistics related to the account, such as booked ratio, total booked hours, etc
Crew Reports
FTL Dashboard: To keep an eye on cumulative duty hours. In one screen you now see all cumulative block times, duty and rest limitations, and their current status. You find the dashboard under Report / FTL Dashboard.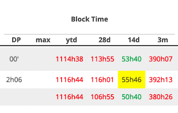 Duty Time Violation: You can easily export data for crew assigned to a specific Aircraft or AOC. Making it easier to get the overview e.g. in an audit scenario.
Roster Planning: You can download the Roster in a CSV. file. Select a date range or a custom period, download it for a certain member of your team, filter by Role, or export all.
Logging: The logging report gives you extra information on several key crew training elements such as landings and take-offs, actual block and flight times, approaches, type ratings, and more.
Maintenance Reports
Maintenance: This report shows you how many maintenance events were planned in a preferred maintenance location and/or in other locations; including the reason and the person who created it. It differentiates between scheduled and unscheduled maintenance. It shows the provider, the reason for selecting it, and costs (estimated and actual).
Maintenance Activity:
There are several date filters for the maintenance activity report.
The next 7 days show the ongoing events and any future event that STARTS in the timeframe

Next 30 days how the ongoing events and any future event that STARTS in the timeframe

Next 90 days how the ongoing events and any future event that STARTS in the timeframe
There is also an airport filter to the report, where users can search per Home Base airport and show the events of all aircraft based there.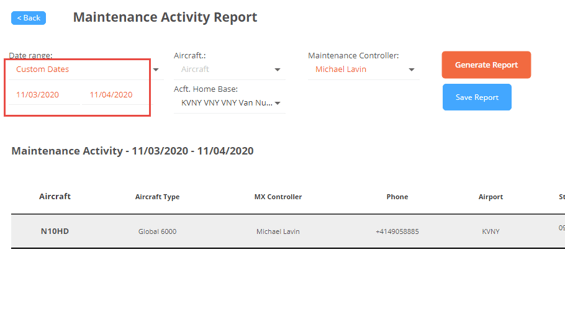 Shared Reports
This section contains reports that one user in the company creates (with certain filters or specifications). You can create a report with specific attributes and save it in this section, allowing other users of your company to see it.