How to add repetitive mixed duties to a crew member and how to copy them other members
In order to easier roster crew members we developed a new tool to add repetitive roster sequences. To make it even better a created sequence can be copied to other crew members in one single step. The steps are the following:
Create a roster sequence. You can combine any roster event type and can leave days empty in the sequence if you need to. In the example we added an ON duty a travel event, a one day empty and a vacation event. We recommend to uncheck the Repeat Daily checkbox, because if you need to edit the sequence at a later time it will make it harder than to edit a block of the repetitive sequence

The next step is to highlight the sequence in order to repeat it. You can highlight it by using the Shift/Click. The system will show you the highlighted sequence in blue by combining all added roster items. Once you created the entire block, you can highlight parts, or the entire block by using the same method and clicking on the first and the last duty you want to highlight

In order to repeat the sequence on the top right click on Edit and from the drop down menu select the Repeat option, determine the date you want to end the sequence and click continue. The system will repeat the sequence until the last day you selected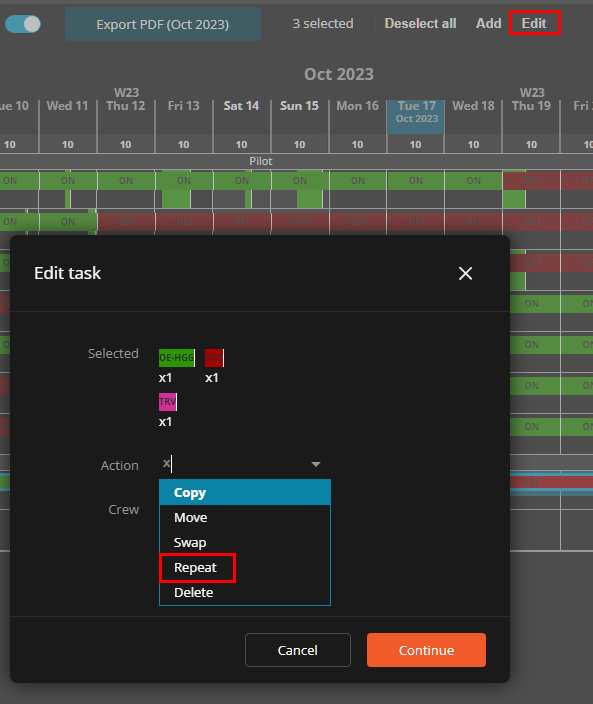 You can now copy the entire block to other crew members, highlight the block you would like to copy, open the Edit on the top right, select from the drop down menu the Copy option and add one, or multiple crew members. The system will copy the entire highlighted block to the selected crew members

If you would like to Delete a block, highlight it, select the Edit and the Delete option. If you want to delete, or edit just one of the roster duties, use the usual method.