Index
1. CAMO Report Range Extended to 12 Months2. Updates to Your Booking \ Fees Report3. Enhanced Flight Time Factor4. Additional Criteria in Your Flight Report5. A New Filter for Your Reports6. FuelerLinx: Attach Your Fuel Documents7. FL3XX BRIGHT: New Datasets for Better Reporting8. FL3XX SOURCE: Send One Email to Multiple Operators
Web Application
1. CAMO Report Range Extended to 12 Months
What's new:
We have extended the CAMO Report date range from 3 months to 12 months allowing you to analyze more data over a longer period. This broader scope provides a more comprehensive view of trends, patterns, and potential issues, enabling more informed decision-making and planning.

Web Application
2. Updates to Your Bookings / Fees Report
What's new: Based on your feedback, we've given your Bookings / Fees Report an overhaul for more clarity. Here's what's changed:
Easier Money Talk: The Net Price, VAT, and Gross Price now have names that are easier to understand and we've also included the currency.
Money for Everyone: Now, you can see the Net Price, VAT, and Gross Price in the Quote Currency too. This will help you if you're dealing with different types of money.
Better Account Info: We want you to have all the info you need. That's why we have added a new 'Account Country' field, advising you which country the account is operating from.
Clear Value and Currency Unit Separation: To promote data accuracy and improve analysis, we've introduced a separation of value and currency units across all fees and prices. This separation will be applied when exporting to CSV, making it easier for you to work with the data in your preferred tools. We want to clarify that the separation of value and currency unit columns is exclusive to the Export CSV functionality, aimed at simplifying data manipulation outside the webpage environment.


Web Application
3. Enhanced Flight Time Factor
What's new: We've enhanced our Flight Time Factor feature to improve your flight planning experience. Flight time calculations on the Sales page now also consider the Flight Time Factor settings from the Aircraft page, ensuring more accurate and personalized results tailored to your needs
Web Application
4. Additional Criteria in Your Flight Report
What's new: Based on your feedback, and to give you even deeper insights into your flight operations, we've introduced 7 new criteria into our default flight reports.

Your flight report now includes:
Departure & Arrival FBO: We've added columns for the Departure and Arrival FBOs, so you can quickly spot the facilities used for your takeoffs and landings.
Takeoff & Arrival Alternates: New columns help you identify the airports used as Takeoff and Arrival Alternates during flight planning process.
Takeoff & Arrival Alternate Airport Category: This new data point gives you more info about the category of your Takeoff and Arrival Alternate airports.
Total Crew Count: We know how crucial crew management is, so we've included a column showing the total crew members on each flight.
Departure & Arrival Fuel Density: Fuel efficiency matters, which is why we've added columns for Fuel Density during Departure and Arrival.
TechLog Number: Now you can track your flights more effectively with the TechLog Number column.
Fuel Data & Separate Value/Unit Columns: Get a comprehensive view of fuel usage with new fuel data columns. And, just like the new Bookings and Fees Report, when you export to CSV, you'll see the Value and Unit information delivered in two separate columns to make analyzing data easier.

Web Application
5. A New Filter for Your Reports
What's new: Upon popular request we've added a new filter option to the below listed reports. Now you can filter reports by not only Ops Teams, but also by Sales Teams.
The reports are:
Fuel Report
Austrian Tax Report
German Tax Report
France Tax Report

Italian Tax Report
UK Tax Report
Trip Summary Report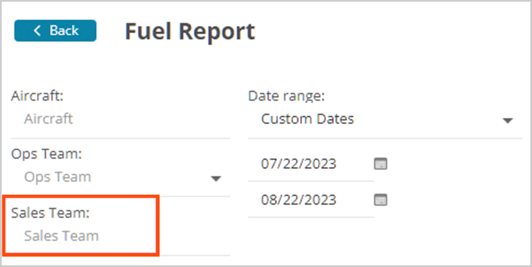 Integration
6. FuelerLinx: Attach Your Fuel Documents
What's new: For enhanced efficiency and smoother data transfer, you can now attach FuelerLinx fuel releases, invoices and receipts to your flights in FL3XX. This feature can be found under the flight's Fuel Section.

For more information on the FuelerLinx Integration, check out our Knowledge Base or contact Support to activate.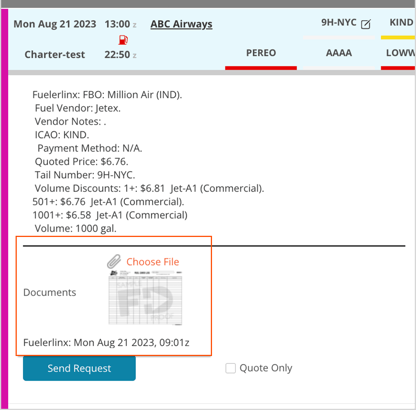 FL3XX BRIGHT | Business Intelligence
7. FL3XX BRIGHT: New Datasets for Better Reporting
What's new: We've recently launched the "Services" dataset in BRIGHT, providing in-depth insights into flight-related services like Catering, Transport, Hotel/Hotac, Handler, Customs, Migration, PPR/Slot, and Permits.

The dataset includes crucial details such as Flight ID, Service type, Status, Responsible party, Service specifics, Remarks, Pax Remarks, Requests, Full Name, Arrival/Departure, Company, ICAO code and much more!

With this data you gain a complete view of flight-related services, aiding in analysis for decision-making and future strategic planning.

To get started with FL3XX Bright Business Intelligence Tool contact Sales, or click here for more information.
FL3XX SOURCE | Broker Platform
8. FL3XX SOURCE: Send One Email To Multiple Operators
What's new: We've introduced a new workflow in FL3XX SOURCE Broker Platform.

The new Subcharter BCC field allows you to send enquiries to multiple operators in a single email by adding them in BCC. Once you receive responses, you can efficiently start preparing options for your clients.


Contact Sales to get started with FL3XX SOURCE Broker Platform today, or click here for more information.