1. New Business Intelligence Product: BRIGHT
Fully integrated with FL3XX Core.
Build pixel-perfect dashboards.
No additional logins or screens.
Novices or analysts, with BRIGHT, anyone can build reports.
Flexibility to auto-send dashboards by email on your custom schedule.
Save time and money with no implementation projects and fees.
FL3XX takes care of all maintenance and improvements.
Interested to try it out for a short period? Write to sales@fl3xx.com
2. Update in Email Attachments
Mainly concerns: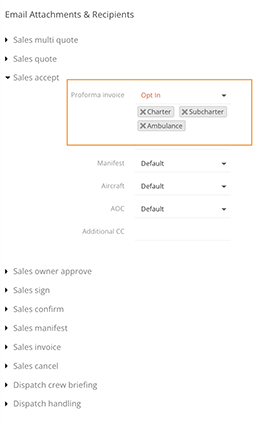 FL3XX Web App
What's new:
Now you can add a Proforma Invoice before you book a flight.
What to look out for:Choose whether to Opt in or Opt out of this setting and add the sales workflow it applies to. Find it in your Settings > Email Attachments & Recipients > Sales Accept.