Web Application
Enhanced Workflows: Flexibility for Every Leg
What's new:
Recognizing that not every booking goes as planned, we've made significant enhancements to our Workflow functionality.

You can now modify your Workflows on a per-leg basis, offering greater flexibility to adapt to specific situations or changes during different parts of your trip. Whether it's a revised itinerary, altered requirements, or unique circumstances, your workflows can be easily adjusted to meet the evolving needs of each leg.

These Workflow enhancements allow you to manage unexpected situations efficiently, ensuring operational continuity, and delivering a superior customer experience.

For more information on making per-leg workflow changes, visit the Knowledge Base.

Web Application
Read Users and Accounts
What's new:
We are introducing two new endpoints into our API to enhance your experience with FL3XX. The following endpoints provide you with improved access to account and user data associated with operators:
Endpoint: GET /api/external/user/account
This endpoint allows you to retrieve a complete list of accounts associated with a specific operator.
Endpoint: GET /api/external/user
This endpoint allows you to retrieve a comprehensive list of persons linked to a specified operator.

To take advantage of these new features, please refer to our updated documentation, which provides detailed information on how to use the endpoints and their pagination functionalities.

For further assistance, contact support.

Web Application
Ambulance Flight Taxes Revamped
What's new:
We've made the following updates to the tax calculations for ambulance flights in the USA:
The FET, Segment Fee and the Hawaiian / Alaskan Facility Fees are no longer calculated.
For international flights departing from the US, we do not apply the Facility Charge. And, upon arrival to the US, we only calculate the Immigration Fee, the Customs Fee, and the APHIS aircraft/PAX charges.


Web Application
Postflight Fuel: Enhanced Tracking and Analysis
What's new:
To provide you with a more granular control and enable deeper insights into your fuel management, the Fuel Panel has been divided into two distinct sections: "Departure Fuel" and "Arrival Fuel" (specifically designed for standby fuel cases).
Departure Fuel:
The Departure Fuel section allows for efficient management and tracking of fuel usage during the pre-flight and departure phases. You can easily input the initial fuel quantity and monitor any changes or adjustments made throughout the process. This feature ensures better control over fuel consumption and helps optimize flight operations.
Arrival Fuel (for standby fuel cases):
We have introduced a dedicated Arrival Fuel section in the Postflight Fuel Panel. This allows you to accurately document and analyze fuel usage during these specific scenarios.




Additionally, you'll find a new field in the FPL (Flight Plan) Panel, which enables a comprehensive comparison of Minimum Fuel Requirements. This feature allows you to cross-reference the minimum fuel requirements with the actual fuel consumed during the flight.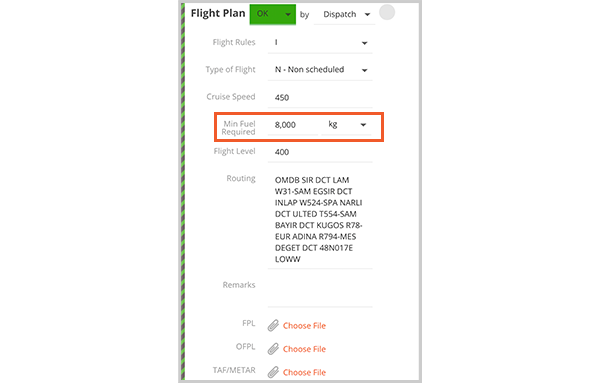 These improvements will empower you to streamline operations, optimize fuel efficiency, and ultimately improve your overall flight performance.
Web Application
More Flexibility for Your Permission Requests
What's new:
We've made two modifications in the Slot / PPR category, enabling more flexibility for your permission requests:
Below the already generated GCR message we have added the IATA standard SCR (Slot Confirmation Request) IATA message. You can choose whether to send both to the Slot office of a coordinated airport, or delete one of them.
Additionally, you can now request both a Slot and a PPR from two different providers using the new add button (+) at the top right of the Slot/PPR page. For example, during the Monaco Grand Prix, you can send a PPR request to the FBO at Nice airport for parking and a Slot request to the Airport for Arrival.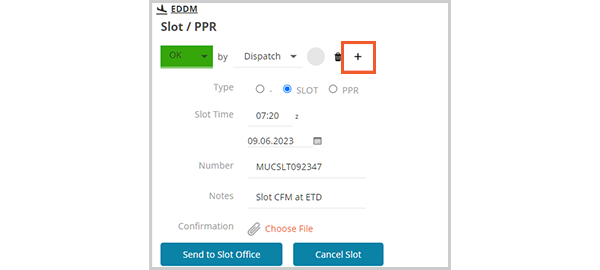 Web Application
It's More Than Just an Inbox
What's new:

We've renamed your Inbox to "Conversations" for a clearer, interactive communication experience.



Web Application
Keep Track of Your Crew Changes
What's new:

The new crew roster log feature provides a detailed record of roster duty changes made to the crew schedule, allowing users to track any updates or adjustments made to the roster. This first version of the feature ensures transparency and accountability, making it easier to identify and address any issues related to crew scheduling.