Web Application
Track Your FlightBridge Status in Dispatch Automatically
What's new:
Any status updates made by FlightBridge can now be automatically synced to your Dispatch screen, so you can stay fully informed the moment anything changes.
To turn the automation on, head to the FlightBridge Integration section in your Settings and enable 'Auto confirm services by FlightBridge'.
For more info -> FL3XX Knowledge Base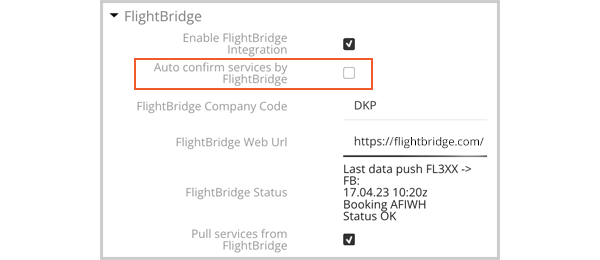 Web Application
Intuitive Invoicing
What's new:
As a follow-up to our recent release of the Invoices section on the Sales page, you can issue multiple invoices based on any booking price changes, such as additional costs after a flight.

Additionally, we will automatically calculate the amount that has not yet been invoiced and provide you with the option to adjust it yourself if required. With this improved feature, you can expect a more efficient and hassle-free invoicing experience.

For more info -> FL3XX Knowledge Base


Web Application
UI Tweaks for Your Timeline
What's new:

We've made some small changes to your timeline UI to to improve functionality and provide a smoother user experience.
See your crew members acronym when hovering over flights in the timeline.


You can now double click on your timeline to zoom in.




Web Application
More Attachments, More Context
What's new:
Upload multiple attachments to Animals and Cargo under the Pax/Cargo section of your flight strip. With this update you'll have all the important details in one place and even more context to deliver an outstanding service.

Web Application
Your Staff Page Revamped
What's new:
Experience a more user-friendly and accessible Staff page view with our latest UI updates:
Staff panels (Passport, Assignments, Recency etc.) are now collapsible for a better user experience.


Qualification groups (General, etc) are now also collapsible within the main qualification view, providing a more organized and user-friendly interface.