Download Owner App
Play store: https://play.google.com/store/apps/details?id=com.fl3xx.owner
Apple store: https://apps.apple.com/us/app/fl3xx-owner/id1261787786
Owner App
FL3XX is offering its customers an owner app to give access to the owners of their managed aircraft. The app is available in English, German, Spanish, French, Italian, and Russian. Once they logged in, the main page shows pictures of their aircraft, its location, and aircraft details.
Open the map and the owner see where the aircraft is in real-time, whether parked or in-flight.
Tour my Jet (3D walkthrough):
With the most sophisticated 3D Showcase of the aircraft on the market, owners can do a 3D walkthrough and tour the unique features of their aircraft from the App.
Set up the URL of your Matterport (TM) 3D aircraft scan, [link: https://matterport.com/3d-space/air-force-one-boeing-vc-137b/], and owners can show the unique features of their aircraft directly on the phone.
This page shows all upcoming flights of the Aircraft along with their schedule, booking ID, departure and arrival times, flight duration, and the number of passengers and crew on board. The owner can navigate by scrolling up and down on the page or selecting one flight and seeing all flights associated with a booking.
This page shows the aircraft's performance via detailed in-app reports. Owners can quickly access the aircraft reports to check the number of flights, passengers, and hours flown in the last week, month or year with the most popular and widely used App feature for Jet owners.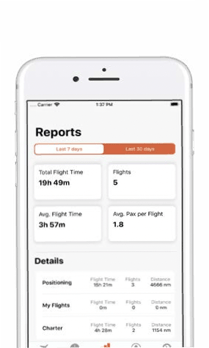 Transactions (Accounting):
Shows detailed information about the last transactions, along with the owner's balance and deposit with the company.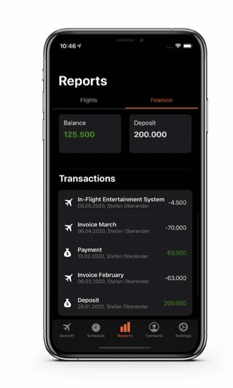 Upcoming maintenance and other events added from the web app Timeline are visible to users in the schedule tab. The most critical, AOG (Aircraft on Ground), is also displayed on the aircraft tab right after logging in to the app.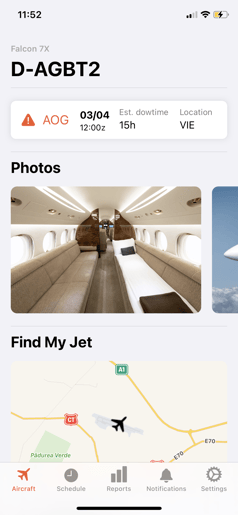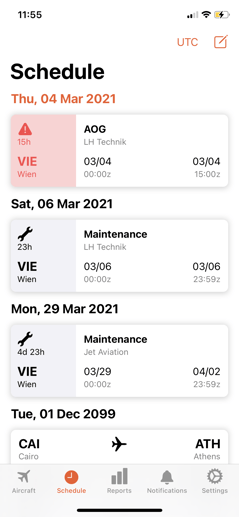 Schedule a flight
The owner can book their flights directly from the app by adding the From/To, Date, number of PAX information, and the aircraft they want to book. The information will be sent directly to your Sales Department.
In the Schedule tab, press the request button on the top right corner and a New Trip tab appears where you can insert all data.
Urgent appointment? Check "Fixed Time" to show the dispatcher that you must be at/leave a specific airport at a specified time.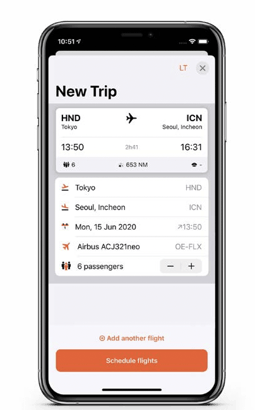 You can also plan a trip with multiple flights and see the flight time and distance estimates.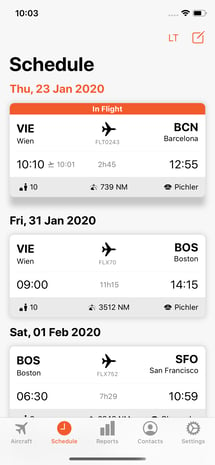 Flight approvals
The Notification Tab shows pending quotes awaiting the owner's approval. The owner can accept or decline this quote, along with the option to review the flight manifest or the owner-approval document. In case the owner has questions, he can easily call or send an email to the sales team.