You can manage pilots in Line Training, and raise a warning in case they are assigned to a flight without a Line Check Captain or Line Examiner.
Go to your AOC and add the Check-in, Check-out times that will apply on flights where you schedule a Line Training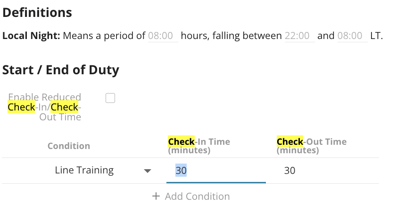 Go to the Staff page and select the crew member, who will undergo a Line Training
Scroll to Qualifications and add a Line Training qualification type

When saved, select the trainer crew member and add either a Line Instructor (LI), or a Line Check Captain (LCC) qualification

At this point, the requirements for the system are fulfilled and next time when you schedule an LT crew member without an LI, or LCC the system will warn you during the crew scheduling process. The warning message is LT in red.