Conversation
In Conversation, you find a feed of all messages sent out from the system or arriving in the system.
It's a log of all messages around this Booking. You can reply to incoming emails directly from the system, without ever leaving the Sales interface. Open the incoming email and hit Reply. You also can resend the emails by clicking on the email and selecting Send Again.

You can show/hide all messages with the button "Show all messages" / "Hide read messages" in the bottom left corner.
If there are attachments in the email, you will find a paper clip icon next to it.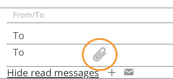 You can open the attachments by clicking on the file name.
Unread incoming emails are also highlighted in the LH-List with red jelly and in bold on the email list. In order to mark an incoming email as read, check the checkbox on the right side of the Conversation panel.

Email body editing
In FL3XX you can edit any email before sending it out. You can emphasize your message with bold, italics, underline, color, and strikethrough. Or you go crazy and use them all together!
New Email
In addition to the usual workflow actions "Send", and "Accept", ... you have the option to write an email that is not related to any button in the workflow. Just click on the + icon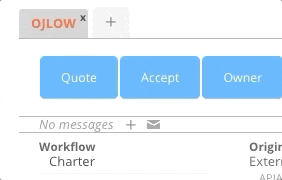 FL3XX evolves to your full email solution. If you want to send an email to your sub-charter company, you can now do it directly from the Sales UI. And as usual, all outgoing and incoming emails regarding one Request or Booking are conveniently stored in the Conversation Panel.
Signature and Logo per AOC
If your company has multiple AOCs, you can use different signatures and logos in customer-facing documents. For setup, refer to the article
AOC Module
.
Change Default Attachments in Email Dialogues
You can select which attachments are enabled/disabled by default in the various email dialogues.
Company Settings > Email Attachments.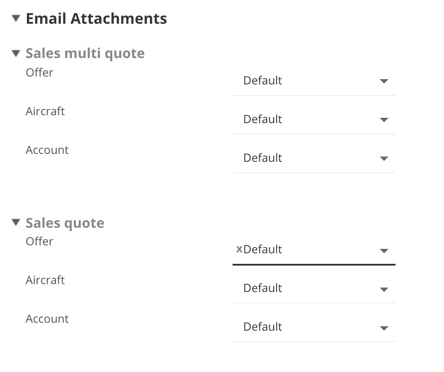 Avinode - Chat Messages
You can see the Avinode Chat Messages feature in Sales. Find those messages along with all your conversation regarding this booking in the Conversation Section in Sales.
New messages are indicated just like new emails. Keeping all your conversations in one place. The feature works nicely on Sales App as well.