In the Dispatch panel if activated as a setting the Release page is displayed. Users with a Dispatch profile can Submit the Flight for Release and users with an Accountable Manager profile can release the flight.
Please note that the Release process has a special feature. If the operator would like to restrict international flight and/or the flight is flying over 725NM over water releases to be done by designated persons who have Accountable Manager profile, they should be added in Settings / Dispatch section / Special Flight Releasers field. Type in the name of the person and select from the list. Once the person is added, flights with the above parameters can only be released by those persons. If any other person with an Accountable Manager profile tries to release it, the system will show an error reminding the person about the above process.

In Dispatch Settings, the company can activate the Release process and set in which cases the flight should be re-Submitted for Release.
Please note that this setting does not apply to US operators, only the Add Flight Release Process in Dispatch needs to be activated in order for the system to follow the FAA Part 135 Flight Release rules. In this case, only Part 135 flights will be available for release.
On the Release page the system displays the Assigned Crew with potentially missing qualifications, the Duty Time and other calculations, and also all Aircraft-related Maintenance data and pending HIL/MEL items. The system also warns of any irregularities in those categories.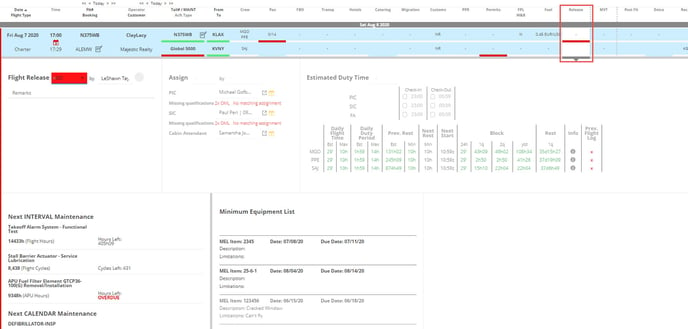 In the last column of the Duty Time calculation panel, you will see an X or a checkmark. When you hover over the marks, it will tell you if the Duty calculation was based on the previous Tech Log entry, or on a general, fully rested crew calculation.

Once the Flight is released, the system will auto-set it back to RED DO when there is a:
Aircraft Change
Airport Change
Schedule Change
Crew Change
Maintenance Event (US only)

If a new maintenance event affects the flight (either AOG or Unscheduled Maintenance)
In those cases Dispatch has to re-submit the Flight for Release and the responsible user has to release it again.
The system also auto-sends mobile notifications to different parties involved in the Release process:
The assigned Crew receives notifications once the Flight is released, when re-submitted for release in case of changes and when it is re-released
All users who have permission to Release a flight receive notifications once the flight is Submitted
The Dispatch user who Submits the flight will also receive a notification once the flight is Released
In the Report / Dispatch section of FL3XX, you will find a report called Flight Release that lists all releases along with re-submissions and re-releases with a time stamp and the name of the users involved.