In the Flight Strip, the Handling Agents for departure and arrival are displayed.
The panel contains the following fields/functions:
FBO: Select the handling agent
° If you are integrated with MyHandling, you can click the button in the related airfield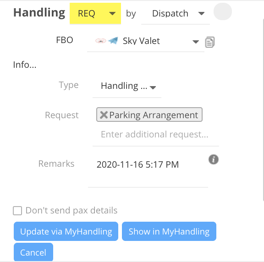 FBO copy button: Copy the selected FBO to all flights of this booking that go to this station
Info…: Get additional info on the handling agent
Type: Select between "Handling Request", "Flight Announcement", "Quote Request"
Request: Enter specific requests, you want to include with this handler; newly created items are stored in the system, so they can be reused
Remarks: Enter free text remarks for the handling agent
Send Request: Sends the Handling Request to the handler
Send Combined: Sends Requests for inbound & outbound flights at this station
Cancel: Sends Cancellation
Cancel Combined: Sends Cancellations for inbound & outbound flights at this station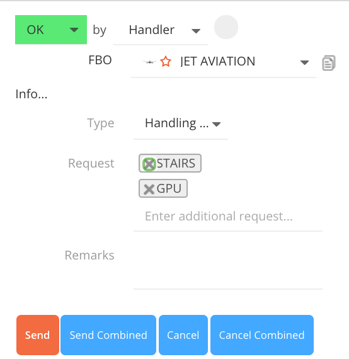 In the handling request, all services that are set to "by Handler" are going to be included.
If there's a change in the flight, and the handling request is sent again, FL3XX will produce a "Handling Request Update", in which changed items are highlighted in red.
On sending the request, the Handling status, and the status of all attached services will switch to REQ (yellow).
When confirming the handling request, you can select "OK" (will switch Handling to OK (green)) or "OK - all" (will switch Handling and all attached services to OK (green)).
Request Fake Schedule
Sometimes (aviation) life is paradox. Like when you only get a departure handling approved when you submit your arrival time - even if you don't know that yet, because it is weeks out.
For this case, we added a new checkbox in the Ground Handling panel: "Use Fake Inbound/Outbound Schedule".
It does what it says: When this is checked, we put a fake inbound flight on the departure requests - or a fake outbound flight on the arrival request. We consider the airport opening hours in doing so. So if your departure is early in the morning when the airport just opens, we will request the inbound for the previous day.
Handling Request Cancellation Fees
To set it up:
In Airport Module, search for an airport > services > ground handling, by clicking the handler company name, you can add the cancellation fees in the field of Dispatch Notes.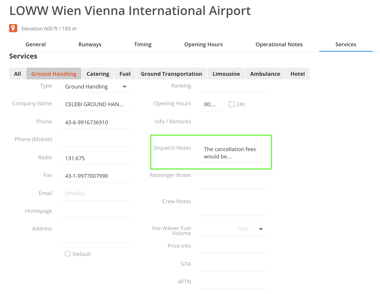 In Dispatch Module, when you hover over the grey jelly, you will see the information you have just added in the Dispatch Notes field.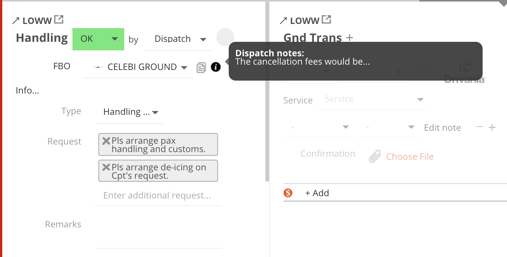 Myhandling.com Integration
See detailed description under MyHandling.