FL3XX's mobile apps streamline aviation operations for crews, sales, owners, and dispatch. Download from App Store or Play Store.
FL3XX offers four mobile apps designed to streamline and enhance aviation operations for our valued customers:
Crew App: The Crew App provides pilots and crew members with access to critical flight details, including passenger information, post-flight, ground handling arrangements, and other services. Stay connected and informed while on the go.

Sales App: The Sales App allows you to create bookings on the fly, providing flexibility and efficiency for your sales team. Seamlessly manage bookings and stay ahead of your customer's needs.

Owner App: The Owner App empowers your customers with real-time access to all details about their aircraft. Keep your customers informed and engaged, enhancing their overall experience with your services.

Dispatch App: The Dispatch App provides your operations team with comprehensive information about flights, including operational details, ensuring smooth and efficient flight management.
To download these apps, simply visit the Apple App Store or Android Play Store, and search for FL3XX. Enhance your aviation operations with FL3XX mobile apps and stay ahead of the game.
Please note that the FL3XX mobile apps require a minimum support version of iOS 15 or Android 9. Make sure your device meets these requirements to ensure optimal performance and functionality.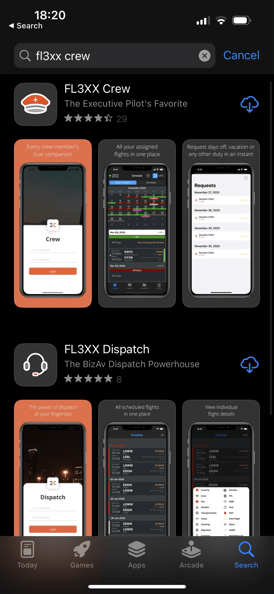 Once you have downloaded the FL3XX app, you can easily set up your account and get started with two simple steps:
Select Your Region: Click on the icon located on the right side of your screen to choose the region where your company is based. This ensures that you are using the correct instance of the app for your region.

Login Options: Use your given credentials to log in, or select Single Sign-On (SSO) login with Google or Microsoft, if your operator settings support it.
Get ready to experience the power of the FL3XX app and unlock the full potential of your aviation operations. Download the app now and take your business to new heights!
Additional information on Shared Instances:
Please keep in mind that shared instances are not compatible with mobile users. If you need to switch between different instances, it is advised to use a different user ID for each instance. We do not recommend using switchable users when accessing the mobile apps. If you need to access two or more instances, please contact our Support team, and they will help you with that. This will help ensure a seamless and optimal experience.
Additional information on File upload:
We have a limited range of supported file types for uploading. These include:
Common image file types: .jpg or .jpeg, .png, .svg, .heic, .gif.
Common text files and documents: .doc and .docx, .pdf, .txt.
Other common files such as .xls and .xlsx, .pptx.
Please note that we do not allow the saving or uploading of files with unsupported extensions. If you try to upload a file with an unsupported format, you will receive an error message saying, "Unsupported File Format. This file format is not supported. Please upload a different file."
Download our mobile apps*
*respective links for downloading other mobile apps can be found in their introduction articles.