The Crew App facilitates seamless scheduling and tracking of duties and flights in local or UTC time, with easy request and acknowledgment features.
Understanding Your Calendar & Duties Screen
Calendar Screen
Moving on to some specifics about the Calendar Panel, you have the flexibility to scroll through your calendar for a period of one year in either direction. All-day duties are given priority and are always displayed at the top of the list on both the Calendar and Duties panels for the selected day. Whether you're looking at upcoming, current, or past dates, you'll find that flights and duties are displayed in ascending order, arranged according to their scheduled times.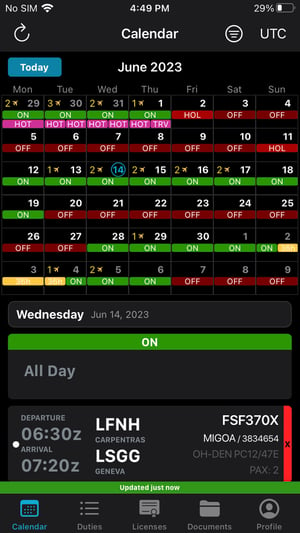 Calendar & Duties Panel in Local Time (LT)
In your Calendar & Duties Screen in Local Time (LT), flights are arranged according to the Local Time of the departure airport. This means you'll see the flights in the order they're scheduled to depart, based on local time. Your duties, on the other hand, are displayed according to your Home Base time. An interesting feature to note is that your device time will always mirror the airport time zone, but only when the device is in the same time zone as the departure airport.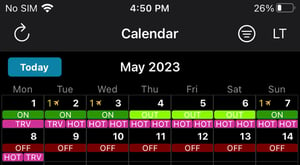 Calendar & Duties Screen in Coordinated Universal Time (UTC)
Switching to the Calendar & Duties Screen in Coordinated Universal Time (UTC), both duties and flights are displayed uniformly. They're shown in Coordinated Universal Time (UTC), and this is consistent across all duties and flights, always keeping in mind the departure time.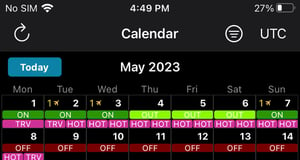 Duties screen
One crucial detail regarding the Duties Screen is that ongoing duties, ones that have not yet ended, are displayed in both the Past and Upcoming Duties panels. This feature ensures you can track ongoing duties easily.
For all-day duties, there's no need for time conversion. These duties are always shown on the day they've been assigned. In addition, duties scheduled from 00:00 to 00:00 the next day are considered all-day duties. Don't worry about them spilling over into the next day; the system has been designed to prevent that.
Please keep in mind that the Duties screen displays duties and flights for the past 30 days and the future 30 days. If you need to view duties beyond this time frame, you can access the Calendar screen for a wider range of dates.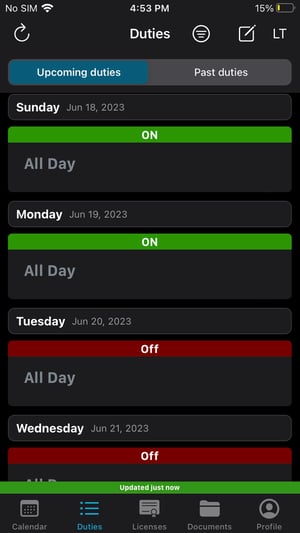 Upcoming duties
In the Upcoming Duties Panel, flights and duties are assembled together, sorted in ascending order from their start time. This setup allows you to see what's coming up next at a glance.
To access a list of all your upcoming duties, simply navigate to the "Upcoming Duties" section. Here, you can view your upcoming assignments, open your duties or flights, and even acknowledge your duties directly from this section if you see a white dot on the left-hand side of the bar. As you scroll through your upcoming duties, you'll see the events arranged day by day, with upcoming duties displayed at the top and future ones at the bottom.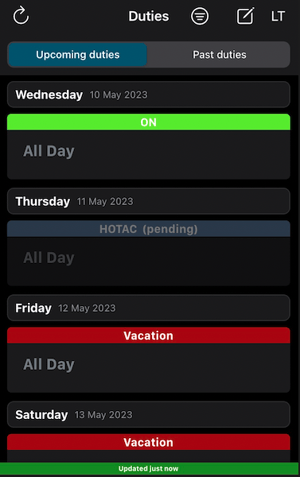 Past duties
When looking at the Past Duties Panel, the system handles this a little differently. Here, flights and duties are sorted in descending order from their start time. This layout ensures that the most recent flights and duties are always at the top. For example, if you were looking at past duties from January 31, 2023, you would see a flight that departed at 20:00, followed by flights that departed at 14:00 and 08:00, respectively.
In this list, you can access all of your past duties, similar to the information you see on the previous days when you access the Calendar. You can view any duty or flight by selecting it from the list. Your duties will be organized in descending order, with the most recent flights appearing first. As you scroll up through past duties, you'll see the most recent events at the top, arranged day by day, with older ones at the bottom.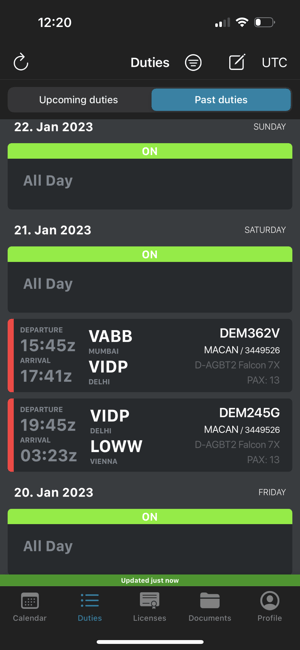 Request Duties or Days Off
As a crew member, you can conveniently request time off, vacation, or other specific duties using the Crew App. To do this, navigate to the "Duties" tab, where you can access the request feature and verify if there are any conflicts or overlaps before submitting your request. You can submit your request by clicking the📝 icon.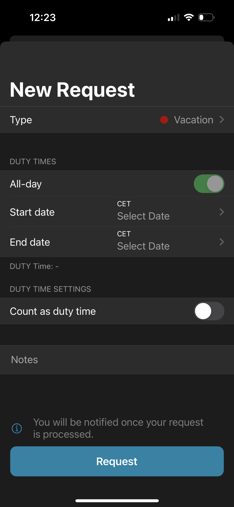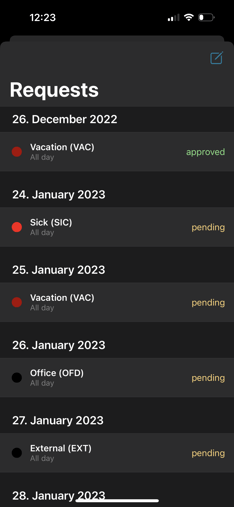 Once your request is processed, you will receive a notification about the decision. To make sure this feature is accessible on your mobile app, verify that your duties are marked as requestable in the Roster settings. This not only saves time but also streamlines the request process for all parties involved.
Furthermore, you can modify a duty entered in the roster by someone else, provided that the duty type is requestable. In such cases, you will see an "Edit" button, allowing you to change the duty and submit it as a request. The web app user will then approve or decline your request. If the duty type is non-requestable, the Edit button will not be visible, and you will not be able to modify it.
Acknowledge a Flight Assignment
When a crew member is assigned to a flight, they are prompted to acknowledge the assignment before opening the flight for the first time. The acknowledgment status is also visible to dispatchers by an indicator next to the crew member's name under the "Crew" panel in the "Dispatch" module.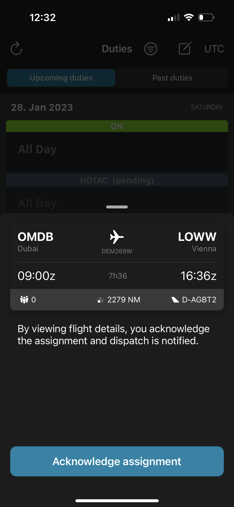 The app also prompts acknowledgment of critical flight changes (times, airports, number of passengers, aircraft change) before a crew member can view further details.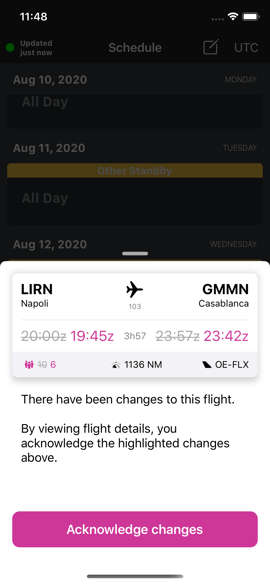 Actual Duty Time Entry
Defined duties (eg. office duties) can require actual duty time entry, should it differ from the scheduled duty time.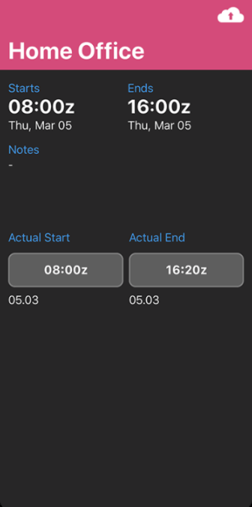 Crew members can enter their actual duty time directly into the respective Roster entry, eliminating the need for redundant time tracking. Contact
support@FL3XX.com
to set this up.
Duty Settings
Crews have the possibility to determine the opening and closing of a Duty Period or the use of split duty on their rostered duties. The detailed view of qualifying duties contains a set of toggles like those you know from the Roster already.
With these settings, your crews can make sure that e.g. their proceeding before a flight updates their flight time limitations appropriately.