Actual Duty Time Entry
Defined duties (eg. office duties) can require actual duty time entry, should it differ from the scheduled duty time.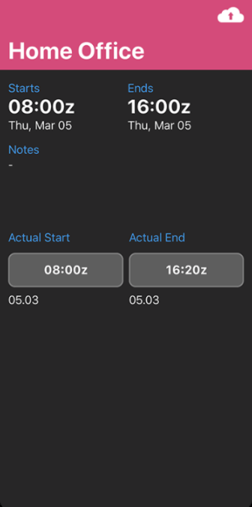 Crew members can enter their actual duty time directly into the respective Roster entry, eliminating the need for redundant time tracking. Contact
support@FL3XX.com
to set this up.
Duty Settings
Crews have the possibility to determine the opening and closing of a Duty Period or the use of split duty on their rostered duties. The detailed view of qualifying duties contains a set of toggles like those you know from the Roster already. An explainer at the bottom helps to avoid confusion.
With these settings, your crews can make sure that e.g. their proceeding before a flight updates their flight time limitations appropriately.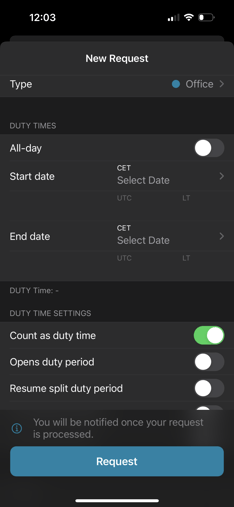 Upcoming duties
Click on the Duties icon to check the duties assigned to you. You can acknowledge your duties directly from here.

Past duties
You can see all your duties if you go to the Calendar overview or you can open your flights from the past 7 days.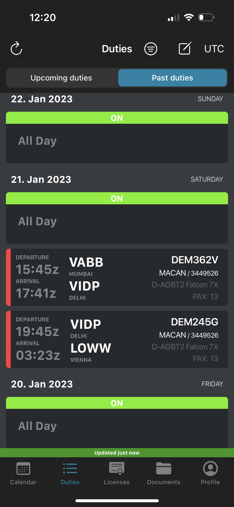 Request Duties or Days Off
As a crew member, you can easily request time off, vacation, or other defined duties directly through the Crew App. Simply go to the "Roster" tab to access the request feature and check for any potential collisions or conflicts before submitting.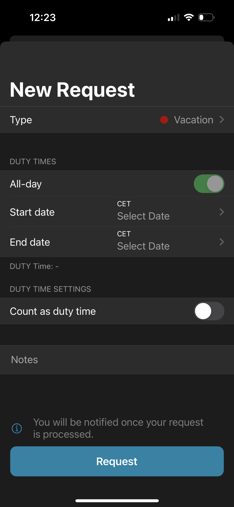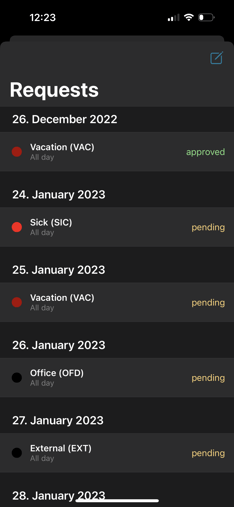 Once your request has been processed, you will receive a notification with the outcome. To ensure that this feature is available on your mobile app, make sure that your duties are set as requestable in the Roster settings. This will not only save you time but also streamline the request process for everyone involved.
Contact
support@FL3XX.com
to set this up.
Acknowledge a Flight Assignment
When a crew member is assigned to a flight, they are prompted to acknowledge the assignment before opening the flight for the first time. The acknowledgment status is also visible to dispatchers by an indicator next to the crew member's name under the "Crew" panel in the "Dispatch" module.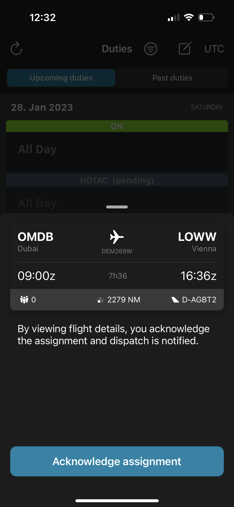 The app also prompts acknowledgment of critical flight changes (times, airports, number of passengers, aircraft change) before a crew member can view further details.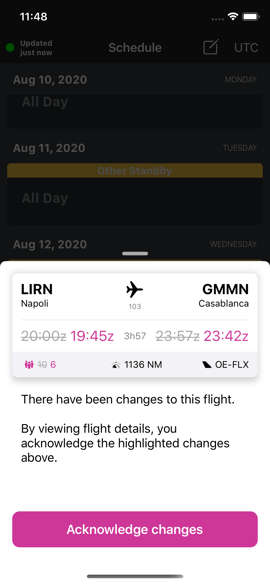 Notifications
Flight Assignment
When a crew member is assigned to a flight duty, a notification will be sent to users with the roles of "Pilot" or "Flight Attendant" on the Persons page. This notification is triggered when the "OK" (green button) of Assign is clicked in the Dispatch module of the web app.
Flight Cancellation / Modified Flight
A notification will be sent to users with the roles of Pilot or Flight Attendant when the crew is removed from a flight and the Assign status is marked OK, either by clicking the OK-green button of Assign to other status or by removing a crew member from a duty in the Dispatch module
Flight Amendment / Update
Users with the role of Pilot or Flight Attendant, who are assigned (OK) and have acknowledged the flight, will receive a notification when there is a change in the flight time, number of passengers, estimated time of departure, or airport change.
All passengers checked in
To receive a mobile notification when a passenger is marked as "checked in", add the passenger from the crew app and change their boarding status to green on the web app, then save.
PAX OK by Dispatch
When Dispatch marks a passenger as OK on the web app, the crew receives a notification that reads "passengers approved for boarding" once all passengers have been boarded on the flight.
Flight Released
When the Flight Release status is changed from "Do" or "Submit" to "Release" by either the Manager or the Dispatcher, a notification will be sent to users with the roles of "Pilot" or "Flight Attendant" who have been assigned and have acknowledged the flight.
Flight Unreleased
This notification provides updates when a flight's Release status changes, such as when it is released and its status changes from OK to something else.
Duty Request Resolution
The user who requested a duty request receives a mobile notification when the staff approves or denies the request.
In-App notifications
In-app notifications are visible when the user is actively using the Crew app, and for each status update, live updates are shared through in-app notifications, which appear in green to alert the user of any changes.
These notifications are designed to make sure that users are always aware of any changes on all flights that they are assigned to.
Rich Notifications
Whenever you get a new assignment to a flight or your flight details change, you will get a notification that contains updated departure and arrival information. All you need to do is firmly press/long press on the notification, and the respective flight opens directly.