CAMP (Computerized Aircraft Maintenance Programs) is the world's leading aircraft maintenance tracking solutions provider.
Description
CAMP (Computerized Aircraft Maintenance Programs) is the world's leading aircraft maintenance tracking solutions provider.
FL3XX offers seamless integration with CAMP covering the following key functionalities to make your operations faster and more productive:
Automatic transmission of actual times and cycles after each post-flight is submitted and validated (i.e. actual totals after the confirmed flight)
Auto-pull of aircraft's due lists and work orders from CAMP
[future] Sync maintenance slots from CAMP with FL3XX Timeline.
[future] Push and sync HIL/MEL between FL3XX (incl. crew app) and CAMP
Use
To activate this integration, please contact both CAMP and FL3XX. The integration has to be set on both sides.
At FL3XX, please email us at sales@fl3xx.com. Please note that this is a subscription service. Monthly fees may apply.
At CAMP, contact their customer support team at support@campsystems.com. The CAMP activation process is as follows:
Customers contact CAMP Support to set up the integration.
CAMP will provide the customer with a newly generated integration Login/Password. This is a one-time exercise only for the entire integration activation.
The CAMP support staff will then set the flags at the aircraft level in CAMP. This step will be addressed as aircraft are added to customer accounts over time.
Then, the same Login and Password issued by CAMP must be set in FL3XX (see the section Settings below).
When complete, the integration will then be active for each targeted aircraft (see the section Settings below).
If the CAMP integration is enabled for the operator both in CAMP and FL3XX, you can select particular aircraft for data transmission with CAMP.
Once the flight is completed, the post-flight report is filed and validated by setting the OK (green) status in Dispatch, FL3XX automatically forwards the total cycles and hours to CAMP for all applicable aircraft systems (airframe, engines, APU, etc.) as set in Aircraft.
You don't need to worry about any later updates or edits in any flight legs, e.g. in case of data corrections. FL3XX will notice and resend new corrected values any time you make any changes.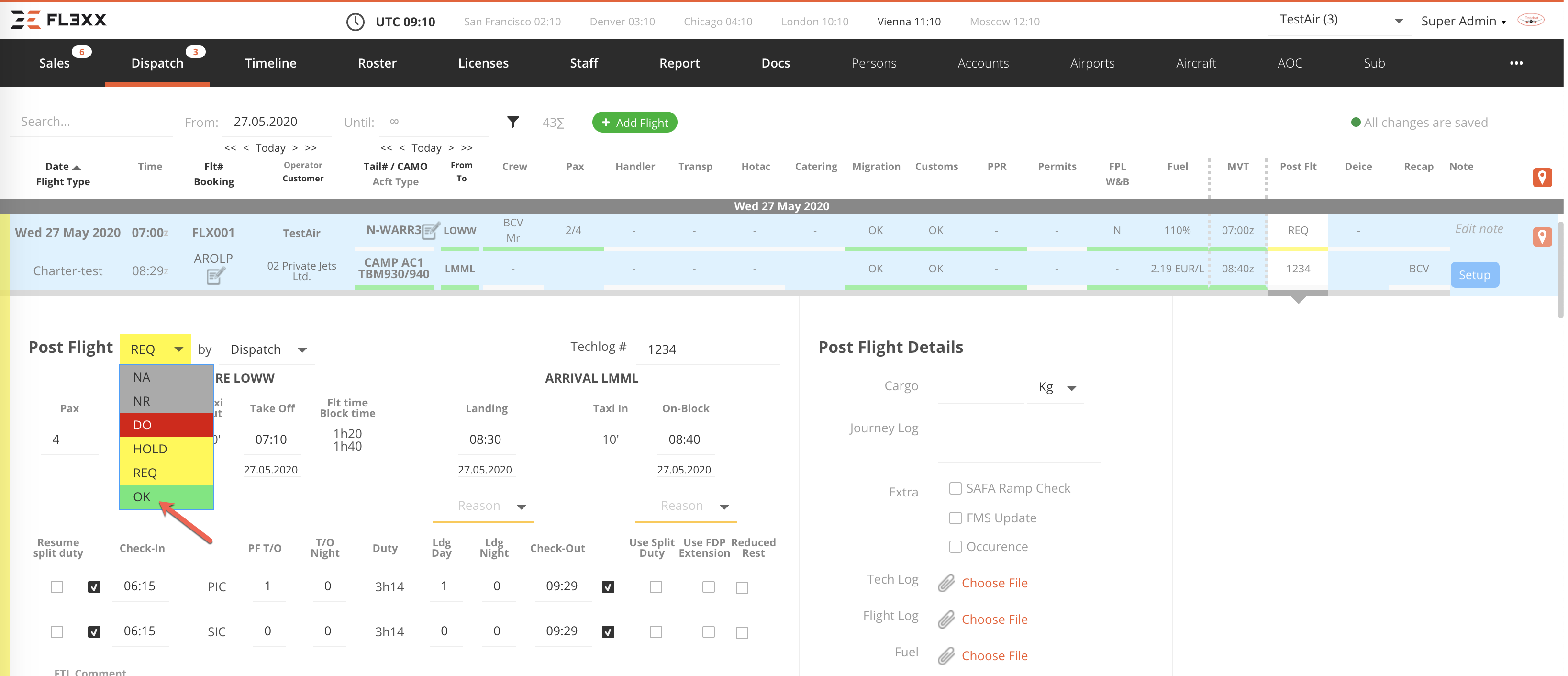 Settings
The main settings for CAMP can be found in COMPANY SETTINGS / INTEGRATIONS / CAMP.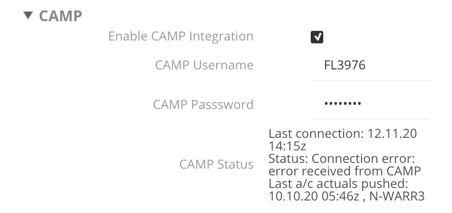 1) Click "Enable CAMP Integration"
2) Input your CAMP Username and Password you've got from CAMP.
3) Save your settings.
4) CAMP Status: Once FL3XX has begun communicating with CAMP, you can check the status here:
Last connection to check whether both systems are in touch.
Status; Ok or Error. In the example above, an error message was received from CAMP.
Last aircraft actuals pushed: Timestamp of the last action and which aircraft. This can guide to address e.g. the error above. Check the affected aircraft in its Aircraft section. Are the systems set correctly? Do the serial numbers of the systems match? Etc.
If no actuals have been pushed, the timestamp is empty. (-> Activate at least one tail.)
Next, on the AIRCRAFT page, select the particular aircraft you wish to enable for tracking in CAMP.
Go to the Maintenance section
Select CAMP from the dropdown menu
Carefully check and/or fill in the required data of all relevant aircraft systems, mainly:
- Initial date: If missing, FL3XX may ignore the system.
- Serial #: The serial has to exactly match with CAMP. Otherwise, the affected system won't be updated in CAMP.
- Initial Landings, Flights, Cycles for each system.
- If you use Hobbs meter, pay special attention to its initiation in its system section. If Hobbs is set and active, it's used for Airframe Flight Time automatically.
Click to activate the sync function for each desired system. Be patient. The green Ok status may appear even after a few minutes.
- If you encounter an error, double-check the Airframe registration in FL3XX and CAMP (any mismatch, such as the NFLX1 in FL3XX and N-FLX1 in CAMP?), initiation values, and dates, and serial numbers.
- Please note, that FL3XX updates CAMP upon the trigger from the postflight section in Dispatch.
Don't forget to make sure that this aircraft is activated for syncing with FL3XX in CAMP. Contact CAMP support to set this up.
May the above list of systems differ from your aircraft, please check and correct the settings in "Operational Parameters" of the respective aircraft in FL3XX.
Note: "Pull Due Lists" is being beta-tested. This function hasn't been officially released yet. You may test at your responsibility. Your feedback is appreciated.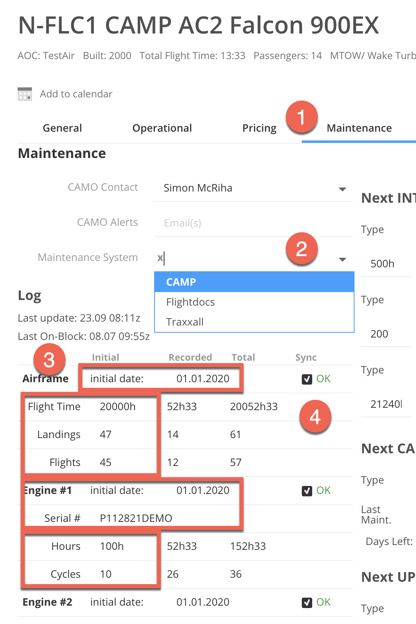 | | |
| --- | --- |
| Post-flight Times & Cycles | FL3XX → CAMP |