Info
Additional information can be captured in three text boxes in the Info section:
Remarks: Content will be printed on the Charter Offer and Contract. Ideal for custom agreements that should be captured contractually.
Flight Manifest Info: Items will be printed on the Flight Manifest, visible to passengers and pilots.
Internal Comments: Comments will only be visible for sales. Can be used for sensitive information.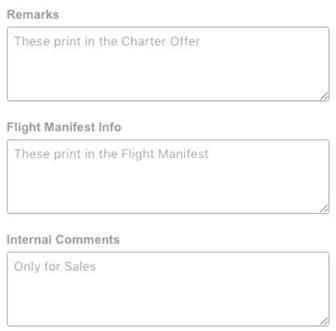 Payment
The payment panel allows you to manage payment guarantees (e.g. blocking an amount on a credit card) and payment status. It includes a warning for overdue invoices.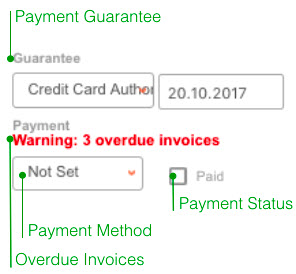 Payment Guarantee
In Payment Guarantee, you can select the method for the guarantee, and an expiry date if applicable.
If the Account is marked to be a "Safe Client" (i.e. does not need prepayment), the status "Safe Client" is selected here automatically.
The presence of a Payment Guarantee will be displayed in the Accounting Timeline.
Financial Release OK
In the new Itinerary Panel in Dispatch, we will now show the status of the financial release accordingly. The line under the Booking ID will be green for a safe client, credit card authorized, and for financially released bookings. Otherwise, the line under the Booking ID will be red to notify your dispatch that the flight is pending commercially.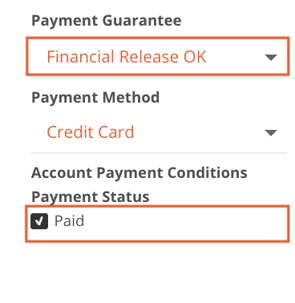 Overdue Invoices
If the selected account has overdue invoices in the system, a red warning indicating the number of open invoices will be displayed.
Payment Method / Payment Status
The payment method and status of payment can be selected here.

If the related checkbox

is checked the Payment Status will be displayed in the Accounting Timeline.